Our Achievements
Welcome to Bushys Fencing & Plumbing



Winner

2011

- Business Excellence Award

2011/2010/2009

- Agri Services Award

2011

- Powercor Colac Otway Business Awards

2011

- Employee of the Year (Greg Bishop Jr) - Qualified Plumber

Finalist

2010

- Trade Services

2010/2009

- Powercor Colac Otway Business Awards
Bushys Fencing & Plumbing owners Greg and Joy Bishop started operations in 2002 with one tractor and one worker. Over the years we have built up a reputable business and endeavour to provide our customers prompt, reliable, affordable service with staff that our customers have come to know and trust.
Today Bushys operates with 7 full time & 2 part time workers and have expanded the business to include an excavator, tip truck & bobcat. By providing fencing, plumbing and equipment services we are able to cater for a broader spectrum of the community and a major benefit to our customers is that our growing services save them the wait on having separate contractors.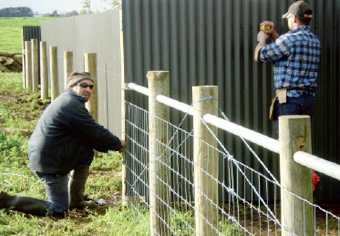 Bushys' Fencing
Our fencing offers a diverse range of work performed from constructing rural fences,stockyards, setting up piggery units to constructing picket, paling and Colorbond fencing. We now operate 2 Tractor & Rammers in the district, which has given us quicker turn around response times. We also offer a qualified Blasterer to assist farmers who require this service.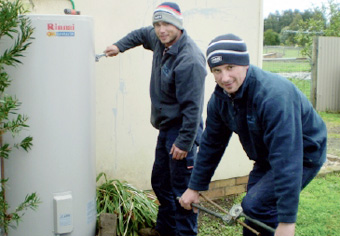 Bushys' Plumbing
Our qualified plumbers have a fully fitted Tradesmen's Trailer, giving them more scope and flexibility for the work they can carry out onsite. Offering general plumbing work from repairing a leaking tap, system blockages to roofing and the installation of Hot Water Services and Air-conditioning Units. Due to our manpower in our business we are in a position to undertaking commercial contracting work. We have now expanded our plumbing to offer the services of a Sewer Machine, Gas Sniffer & Carbon Monoxide Tester.